Administrator
Staff member
For those of you who are interested, I am helping Trail Bud sell his beloved Jeep JK Wrangler. In the last 6 years, he's only driven it 10,000 miles for a myriad of reasons and I've finally convinced him to downsize to something he'll actually use. It is a great rig built in the likeness of Moby and something I'm sure someone can have a lot of fun in. With that said, here's all that you'll be getting with this Jeep.
This is a white 2007 Jeep JK Wrangler Rubicon Unlimited built by EVO and made to take on just about anything. It features an EVO long arm suspension system with extremely rare billet aluminum ENVY links and is paired up with EVO Spec 14" King Coilovers up front and an EVO Lever cantilever system with 8" King Coilovers in the rear. Both front and rear axles have been upgraded with Dynatrac ProRock 60's running 5.38 gears, ARB air lockers and the front comes complete with competition shafts and CTM U-joints and all this pushes a set of 40x15.50 Toyo M/T's mounted on 20" Spyderloc beadlock wheels. To help crawl this beast out on the trail is an Atlas 4 Speed Transfer Case turning JE Reel 1350 driveshafts and to help steer it, an EVO High Steer kit and PSC Ram Assist has been installed as well. For protection, this Jeep has an EVO Quarter Pounder front bumper with Stinger and a WARN Power Plant installed and for the rear, it has an LoD rear bumper tire carrier with trail rack. Rocker protection is provided by EVO weld on sliders and a Rock Hard Sport Cage helps to protect the passengers. To help provide a comfortable ride, the seats have been upgraded to MasterCraft Baja RS suspension seats and to help keep your gear secure, a Tuffy Deck has been installed in the rear and lock boxes under the seats. Just for fun, this Jeep does come with a set of Rugged Ridge half doors in addition to factory full doors and a soft top and hard top as well. It should be noted that a new engine with headers was installed back in 2016 and it only has 10,000 miles on it. Of course, as you can see in the pics, it breaths though a really nice AEV Snorkel System. There are tons of other features such as custom gauges, a switch systems and more and you'd really have to see to appreciate it all. This Jeep has been garaged, well maintained, is in good mechanical working condition and is worth every penny for all the high end custom parts alone.
What the buyer should be aware of is that the lights on the dash are all on. A new clock spring and speed sensors will be needed to address them. The oil light does come on at a low idle as well and this is because of an aftermarket sender that was installed to provide readings to the custom gauge. It can be fixed with an resistor. Last but not least, the windshield is cracked and will need to be replaced.
2007 White Jeep JK Wrangler Rubicon Unlimited
3.8L V6 Engine
Automatic Transmission
Full Doors
Hard Top & Soft Top
EVO Long Arm Suspension System w/ Billet Aluminum ENVY Links
EVO Spec 14" King Coilover Up Front
EVO Lever System in Rear with 8" King Coilovers
40x15.5x20 Toyo Open Country MT's
20" Spyderlock Beadlock Wheels
PSC Ram Assist Steering
EVO HD High Clearance Steering
Dynatrac Pro Rock 60 Front Axle w/Competition Shafts & CTM U-Joints
Dynatrac Pro Rock 60 Rear Axle
Atlas 4 Speed Transfer Case
1350 Drive Shafts
Rock Hard Sport Cage
Warn PowerPlant Winch/Compressor
EVO Quarter Pounder Front Bumper w/ Stringer
LoD Rear Bumper Tire Carrier w/ Trail Rack
EVO Weld On Rocker Guards
Rugged Ridge Half Doors w/ Soft Uppers
Bestop Safari Top
Mastercraft Baja RS Seats
Tuffy Security Deck
Tuffy Under Seat Lock Boxes
AEV Snorkel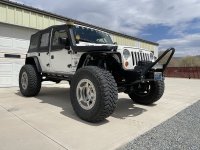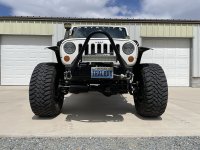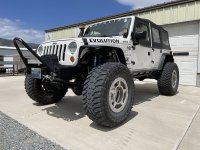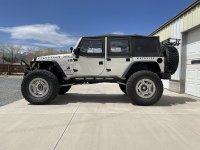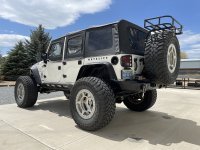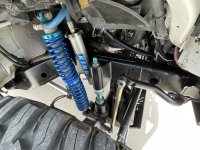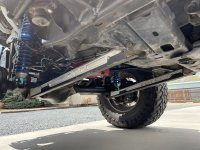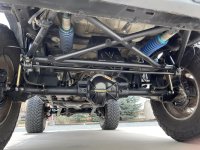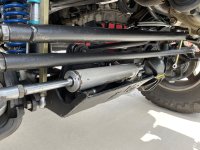 Last edited: