How do you do it? This is on a Mopar complete bumper assembly. I did not replace or install the fog lights. They came installed in the bumper from the factory.
I searched this forum and google. I mostly found results on how to adjust JK fog lights. I guess there is a hole in the bottom of the bumper and you use a long Flat tip screwdriver.
I took the below pic of what looks like an adjuster at the back of the fog light. I tried a Philips bit and the bit does grab but it did not budge. I put a reasonable amount of torque on it. I tried clockwise and counterclockwise. It didn't budge. It also appears to accept an Allen. Any advice is welcome. Maybe they are just torqued to their lower limit?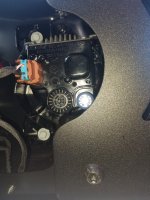 And after a closer look it appears to also maybe accept some type of splined shaft. I wonder if other uses of these fogs are remotely adjustable.
I need to crank them up. Their incredible cut off is seen on the asphalt 20' in front of the truck.
Thanks,
Vern