I just ordered 35's and will need to reprogram and came across this write up. Are any of the OBD Adapters preferred over the others on their website. Looking for whatever is most user friendly.

Sent from my iPad using

WAYALIFE mobile app
I use this one. Always links up to my iPhone no problems. Just used it today to center my steering.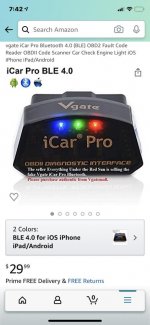 vgate iCar Pro Bluetooth 4.0 (BLE) OBD2 Fault Code Reader OBDII Code Scanner Car Check Engine Light iOS iPhone iPad/Android
https://www.amazon.com/dp/B06XGB4873/ref=cm_sw_r_cp_api_i_u9r.EbFJV8G0E