CALAMITY JANE : 1974 Jeep CJ5 Renegade – The Newest Member of the WAYALIFE Family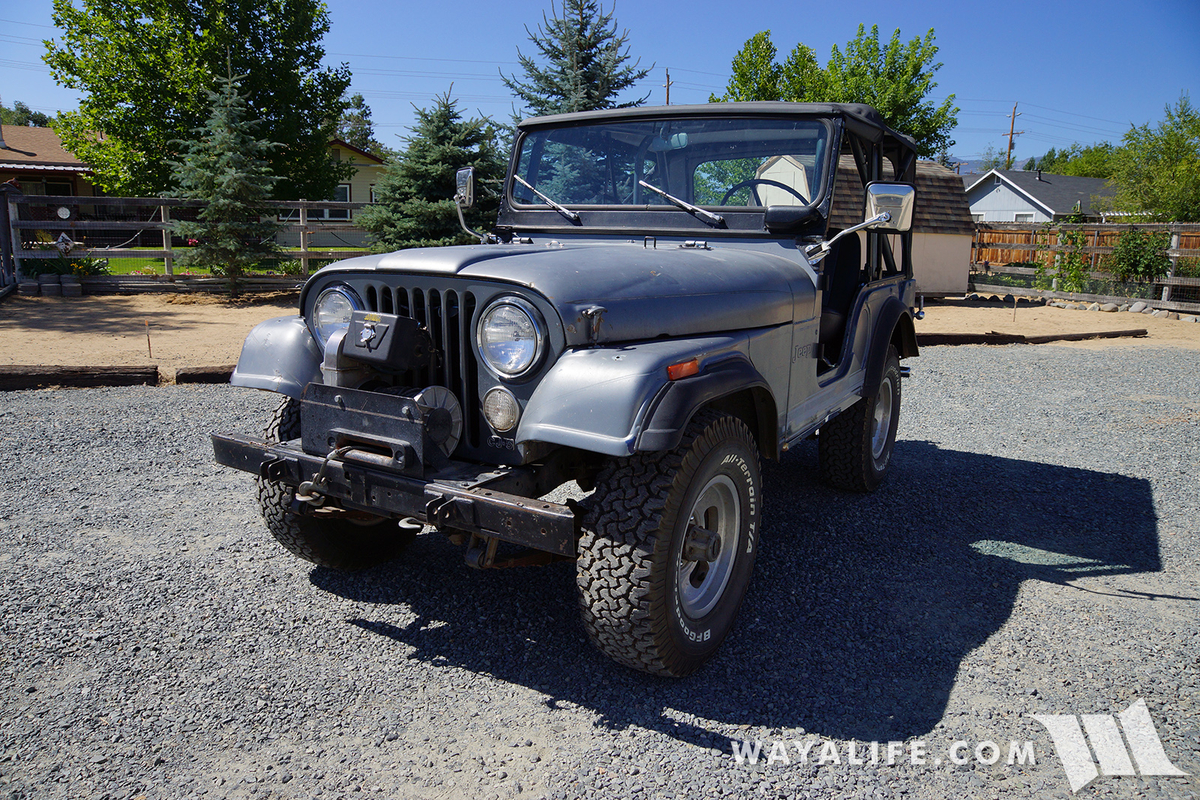 Okay, this was totally an impulse buy but Cindy and I just happen to see a cute little CJ for sale and couldn't leave it sitting all alone by the roadside. Turns out it's a 1974 Jeep CJ5 Renegade with an AMC 304 V8 under the hood, a T-15 3-Speed manual transmission, a Dana 20 transfer case, Dana 30 front axle with WARN locking hubs and a Dana 44 rear axle. With the exception of a brand new set of 31×12.50 BFG AT's mounted on the super clean factory Renegade aluminum wheels and a homemade cage welded onto the factory roll bar, this Jeep is essentially bone stock, or for the most part anyway. Under the hood is a Holley carburetor, an Edelbrock air intake, MSD distributor and to cough it all out is a brand new Dynomax exhaust system. The previous owner also had a new radiator installed, new exhaust manifolds installed and a new gas tank installed complete with new fuel lines. Other new additions include Rancho RS5000 shocks and a Bestop soft top with 2-piece soft doors. All the lights and gauges work and while I have little doubt the odometer has rolled at least once, it only showed 46,800. All that being said, if there one feature on it that we were really surprised to see and absolutely love, it's the first year ever, factory installed WARN 8274 winch and winch plate! As some of you may know, this is one of the BEST 8000 lb. winches WARN has ever made and the "74" in the 8274 represents the year it was introduced.
Sure, this little CJ is a bit rough around the edges and far from being a beauty queen but in so many ways, that's what we love about it and it's also why we named her, Calamity Jane. Also, we know that anything made in the short 1972-75 time span is considered to be an "intermediate" CJ5 and harder to work on compared to something like a 76-81 CJ5 but again, that is what we love about it. Last but not least, while we found this Jeep up in Truckee, CA, we learned that it was originally from Fallon, NV and knew we had to repatriate it. Anyway, I hope you like the newest addition to the WAYALIFE family and if you click on the link below, you can see a ton more pics of it.
1974 Jeep CJ5 Renegade – The Newest Member of the WAYALIFE Family