Debating on selling my 2011 jk auto so that I can start fresh with a JL. Seeing if there is any interest out there.
Some of the big parts on it are
37/12.5 Cooper stt pros
ATX chamber pros
Evo bolt on coilovers
Pr44
Pro steer ball joints
5:13 gears
Adams 1310 DS front and rear
Arb air lockers f/r
View my profile for everything else it has.
Jeep has about 75k miles on it (I daily drive it).
Looking to get 22,000obo. Message me if interested. Located in West Chester, pa.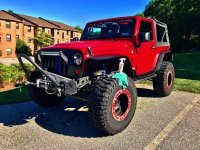 Cozdude's build of Knuckles
https://wayalife.com/showthread.php?t=10080
Last edited: