Here is day one: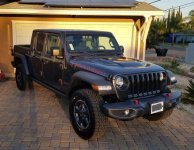 I had a '09 JK that I built and I was happy with it but it had no cargo space even with the back seat removed.
It's a Rubicon. A Jeep. A truck. What's not to love? And did I mention IT'S A FREAKING RUBICON?!?
Completed mods.
- Dog hammock across back seat.
-
Late addition.
Steel bumper and skid swap. Post #7.
- AUX Switch Kit. On order. Only "permanent" installations will connect to this. Or put another way, only items I do not want out of the Jeep if I were to trade it in. Amateur Radio equipment will not connect here.
- DIY bed rails cargo management. Hardware from McMaster. Unistrut from a local metal shop. Rails are painted Granite Crystal Metallic. Hardware painted Rustoleum Hammered Black.
- Tazer Mini.
My pending build list in no particular order.
- No lift. Not changing rims. No bigger tires until these need to be replaced and even then going up a size is a hard MAYBE. No turbo, no supercharger and no Hemi.
- Overhead (MoLLE?) console or CB Bar. I need a place to mount Amateur Radio(s) or at least control heads for them. The center console is packed from the factory. Top of the dash is not an option. Any space that may ever possibly be occupied by a deployed/deploying airbag is also out. I saw a handheld "mount" that clips onto the passenger grab handle above the glove box. Not on a dare and not even only when off road.
- (MAYBE) Replace spare rim with matching factory rim. This would allow 5 tire rotations. My concern is that 4 tire rotations leave the spare to dry rot forever under the truck. During a tire change, do you replace 4 tires or 5, throwing away a never used or barely used spare? I am open to suggestion on this one. What is your plan for tire rotation or replacement?
- Amateur Radio gear. FT-857D transceiver, VHF/UHF antenna, Scorpion HF antenna, APRS module and separate 2m APRS antenna. This will be ongoing and ever evolving. I see mention of putting a transceiver under the front seat but I don't have that kind of room under my seats. I had a stereo amp and FT-857 stacked under my JK passenger seat. Not putting a radio amp in the JT so that is not a consideration but I still don't see room for a transceiver under there. I am open to suggestion. Scorpion antenna will be mounted in the bed on the passenger side.
- LED module rock lights.
- Switch Pros panel. If it were today I would choose the 9100. I don't know if it will still be a current product when I am ready. Whatever product replaces it when the time comes that has 6 - 8 outputs. I do not need 12 outputs!
- Spray in bedliner.
- Rear work lights. These will either be behind (in front of) the rear bumper or mounted in such a way that they can swing up when on a trail. (I might replace the reflectors but that will require more research of reliability and light output patterns.) I could use them daily if needed in the driveway or parking lot. When going off road they could be rotated up while airing down and verifying cargo is secure.
- PDC wiring. Connect Switch Pros to Wireless Speaker splice UNDER the PDC rather than Add-A-Fuse. Invisible for dealer visits. Since I do not have the Wireless Speaker that fuse location on top would be for the Switch Pros module.
That is current status. Gypsy Grace has a hammock in the back seat. Mod #1 Complete!
Vern
Last edited: