As I posted in the "What Was Done to Your Rig This Week" thread I installed my new 1350 front DS last weds. When I pulled forward in 4H all was good. I went to shift back into 2H and when I did the shift levet began jumping. Upon inspection I discovered the CV flange bolt heads were contacting the T-case shifter linkage. I've heard where the the CV contacts the part that holds the shift cable and one of the ears needs to be trimmed but not this. I'm asking if anyone else has had the issue I'm experiencing and if you did what was your fix? I plan on calling my driveline shop tomorrow to see if he's heard of this and what a suggested fix would be. I've got a couple ideas and I'll list them below. I've also attached pics so you can see what I'm referring to. The 1350 t-case flange is the same length as my old 1310 t-case yoke. The larger diameter of the flange is the problem.
1. Grind enough of the shift linkage away so the bolt heads clear.
2. Weigh the flange bolts and cut the heads down to clear, keeping their weights as close as possible. (Grind the shifter linkage if needed)
3. Purchase standard grade 8 bolts with lock washers like on a 1310. (Grind the shifter linkage if needed)
4. Install the driveshaft bolts in reverse, however the CV flsnge is threaded and I'm not sure if the threads on the t-case flange would line up correctly allowing for the mating surfaces to sit flush and bolt torque be applied correctly.
5. Drill out the threads in the CV to allow the bolts to be installed in reverse and ensure the mating surfaces sit flush and bolt torque applied correctly.
Just looking for the overall safest and strongest option. Thanks for your help.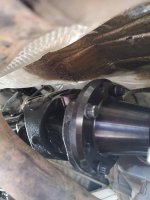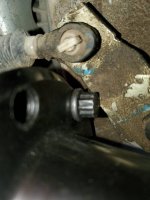 Sent from my SM-G973U using
WAYALIFE mobile app