So, my son and I have been toying with the idea that his first car should be a project for both of us. He really enjoys my Jeep, so we figured maybe we could find a junkyard project to work on and get running by the time he is of age (he turns 14 in May, so we have some time to work with).
I was doing my normal Jeep parts stalking on the interwebs, and stumbled across a 1964 M38A1 in running condition for a pretty killer deal. To my amazement, my wife gave us the green light to go check it out and snatch it if fit our idea.
Fast forward three hour later, we were the proud new owners of some history.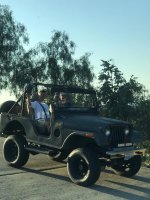 On the way home, the right rear brake decided to piss fluid and start smoking, so a tow truck was needed for the last 8 miles.
We got it home and started to formulate our plan. The previous owners converted it from 24V to 12V. The wiring was horrendous, as was the diamond plated dash, so we began to pull off all the "stuff" that needed replaced.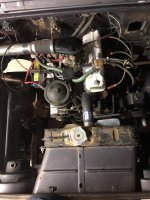 The engine is clean, all 72 HP. The tub and associated body is mainly free of rust.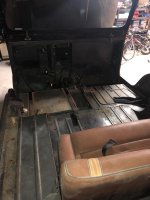 We pulled the upper steering column (looks like its from a 90s Cherokee) as well as the aftermarket and stock lights.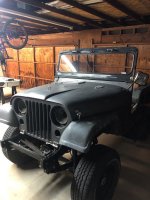 The previous owner added power steering, which will stay.
Overall, it's going to be a fun project that really won't require too much work.
Sent from my iPhone using
WAYALIFE mobile app