Hello guys just thought I would do a quick post about this topic with some real answers and pictures. Before I tackled this project there was a lot of maybes and should's but nothing concrete.
First a little info:
Wife's 2015 Jeep Grand Cherokee limited with the 3.0L eco diesel with 15,000 miles. It HAS the heavy duty brake package. And came factory with 18" limited wheels. No Quadra lift or spacer lift bone stock.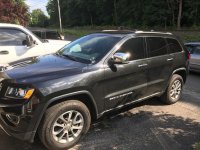 Donor Jeep. My 2013 JKUR wheels with Tpms still installed.
Before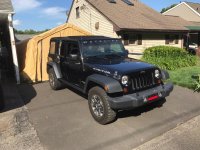 After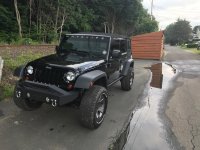 After a ton of searching and basically coming up with a solid maybe they will fit I listed her stock set of wheels and tires on Craigslist. Sold them in one day and when I went to mount the rubicon wheels/tires on they did Not fit the front!!!! So I did some more reading and found that you can either grind your brake calipers or buy some wheel spacers.
So with my sights set on the minimum wheel spacers I would need I eventually came to ordering a set of 1.5" Bora wheel spacers. They did take 10 days to cut on the CNC machine and 3 days of shipping. After receiving them I was very impressed with the quality and fit and finish.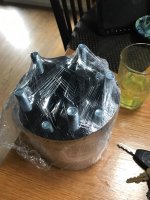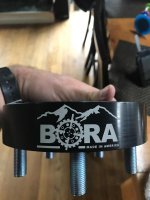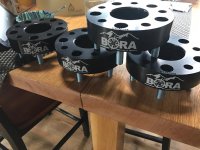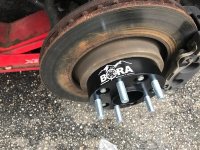 At this point I got them mounted up and found 2 "new" spares for the front of the jeep on Craigslist and took my best 2 for the rear.
This is how it sits today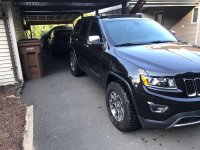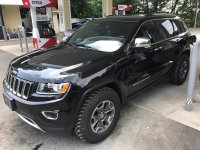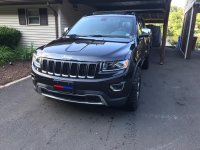 The 2013 Tpms sensors were recognized by the 2015 Jeep WK2. They automatically updated with pressures once she drove it enough. However it did take about 2 days and 30-40 miles for us of mixed driving.
The wheels and tires fit well and barley stick out past the fenders. Less than a half inch of tire exposed. There is no rubbing lock to lock in the driveway. However we are having a slight rub on the fender liner where one of the plastic clips resides while driving over a bump and turning slightly left or right, but nothing major. While driving with the steering wheel straight, or turned more than 1/4 in either direction there is not any rubbing.
Over all there is a little more road noise inside the jeep as to be expected but not enough to bother the wife but just enough to put the little ones to sleep!
The 1.5" spacers gives enough room to clear the caliper. I would not recommend any less of a spacer.
Also the full size spare will fit In the stock wheel well. This tire is probably 10% tread but fits with the "ice buckets" still inside.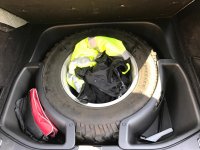 Sent from my iPhone using
WAYALIFE mobile app
Last edited: