So here is my story which I wanted to share and hopefully someone out there can benefit from my experience. I got my 35's and the Slabs through a guy who knew a guy. So the second guy had a shop and mounted tires on the rims the way he felt was the right way. So here I am wheeling my Jeep with some local guys who admired my wheels however none of them knew shit about beadlocks up until I had a trip with a Wayalife guys, at that point I was wheeling my beadlocks for almost a year. So I was very surprised when Cozdude(Steve) came up to me and said "Do you know your wheels assembled wrong?" "You have a shiny ring but it serves no purpose other then decorative." I was surprised and kind of socked, in my mind I got the full set of wheels assembled from a shop so how could that be???? Well , all I can say that after watching the video of Mel of ORE explaining how to properly mount beadlocks it was clear to me that the shop Fucked Up.
Here are the pictures of what I did yesterday to correct the issue. I don't know if I was in any danger running the wheels the way they were assembled but it is an old story now.
1.After removing the wheel, deflating them and removing the ring you can clearly see that the lip of the tire is behind the rim itself. Basically the tire was mounted on the rim traditional way, both lips behind the rim and the ring just set on top without serving its purpose.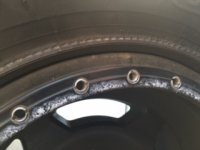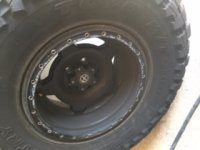 2.On the two pictures below you can see proper way to position the lip of the tire. It has to be as close as possible to the ring with the nutserts and then the ring has to go on top. Let me tell you that the royal pain in the ass was to get the lip of the tire from behind the rim considering I only had pry bar hammer and the screwdriver
and I was by myself.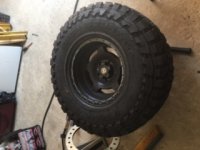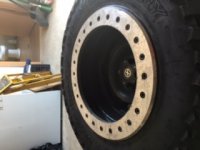 3. So it took me close to six hours to get four beadlock wheels disassembled and assembled back the right way. Here are the two pictures of one of the corrected beadlocks I have and my spare tire with the wrong install. I did not have it in me to fix that one. I hope you can see(hope pictures are not too small) that all the little lettering should be exposed and under no circumstances covered by the ring.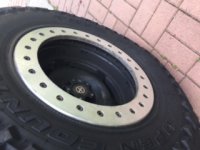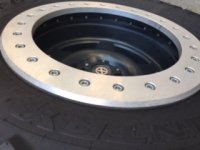 Hope this post will help someone out there. Thank you Coz for pointing out this fuck up. Yes I know it took me five month to fix:bleh::bleh::bleh:
Last edited: