This is for a 2016 Jeep JKU with a 3.6 pentastar. It was long overdue for my Jeep but I finally got it done. The shifting has been getting rough at times. It seems that the majority say to change the fluid every 30k miles. I thought I would do a write up since I couldn't find one.
While I was down there, I went ahead and changed the transfer case fluid.
What You Need
-5 quarts of ATF+4 fluid
-auto transmission filter kit
(NAPA part: ATP 18579)
-funnel
-siphon hose (several feet)
-empty gallon jug
-t30 torx bit (I used the small ratchet from the Jeep kit)
-10m socket and ratchet
-rags
-oil catch pan
-cardboard
-inch torque wrench if you have it
-tools to remove any skid plates in the way
Instructions
1) Take the siphoning hose and stick one end down the transmission dipstick tube. Begin the siphon into the empty gallon jug. Let it run for as long as you can, try to siphon close to 4 quarts. (The siphoning hose I used was too small. Unfortunately, I am uncertain of the size but it took forever.)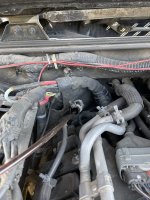 I marked quarts on the side of the gallon jug.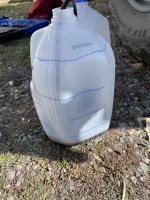 2) While the jug is filling, remove any skid plates that are in the way.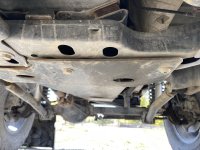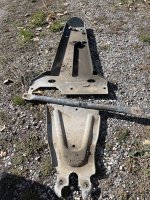 3) Once your done siphoning, setup the oil catch pan and cardboard underneath the transmission fluid pan. (My picture was taken after the fact, I didn't siphon out enough because it was taking so long… got a little messy
)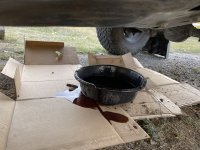 4) Using the 10mm socket and wrench, remove the 10mm bolt from the transmission fluid pan.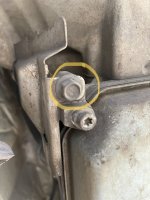 5) Using the t30 torx bit and the small ratchet from the Jeep kit, remove the 6 screws holding the pan in place. Hold the pan with the other hand ensuring it doesn't fall. KEEP IT BALANCED, there is still fluid in the pan.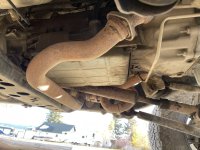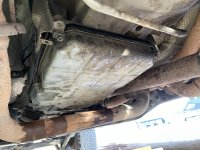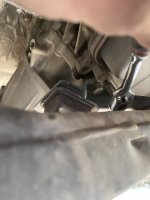 Note: The small ratchet can reach the back screws without having to jack up the transfer case and without having to remove the cross member.
6) Drain remaining fluid from the transmission pan into the catch pan.
7) Remove the filter by pulling down on the old filter, replace with new filter by pressing firmly up with the new filter. (Forgot to take pictures)
Last edited: