I figured it was time to put up my build and what has been done so far. Like most of you here, I have spent countless hours building my jeep and am proud to say I have done everything myself. I must admit even though I turned the wrenches on everything, I would have been lost without this place at many times. I want to say thank you to Eddie and Cindy for creating this forum and thank you to all the members for the help and knowledge I have received along the way.
When I bought my JKU new in 2017 I never imagined I would spend so much money so fast. My initial intentions were to lift it, run 35's, and be done. I took the Jeep out for its first off road trip and it never saw dirt in stock formation again. While on that trip I started researching lifts and was immediately drawn to Evo because of the King shocks. At this point, I never heard of Evo and kept researching them and kept finding great information on Wayalife.
Here she is on day1.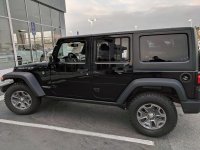 Originally, this was the end of my build. 3-inch Evo enforcer stage 2 draglink flip, Kings 2.5's, wheels spacers, and stock wheels on 35 BFG KM2. Well, that's what I told the wife at least.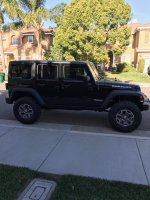 I ran the 35's for about 1000 miles before I decided I wanted 37's and beadlocks with a wider stance. Since the tailgate bent with the 35's I started looking for a tires carrier. I found a good deal on a brand new in box PS front bumper and rear tire carrier and ran that for a bit.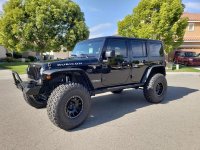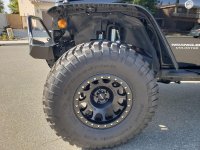 I also added front and rear Adams 1350 drive shafts, upgraded the other 4 controls to have all EVOs, installed a race radio, and built this deck with some L brackets. I got my idea from here, I think it was from Sharkey.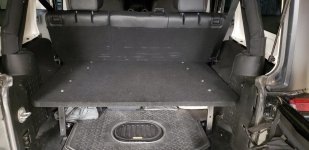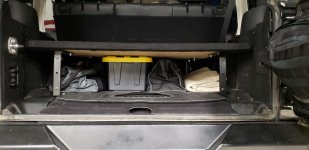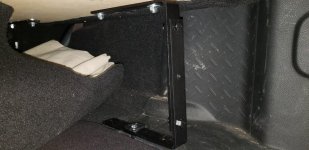 Added the Warn Zeon 10-S courtesy of Bubba at Exodus Jeeps.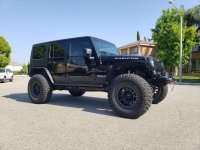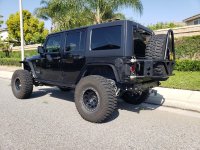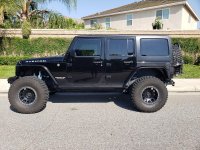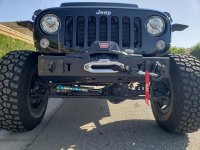 Again, thanks to everyone for all the help getting me here.:thumb:
Last edited: