I'm finally getting around to my gear swap. The rear is getting a master rebuild kit and new R&P but my front is the D30 from MybadJK with fairly new 4.56 gears. Because my housing is in better shape, with c-gussets, LCA skids and everything else complete, the gears from the donor axle will go in my OE axle.
My buddy doing the swap for me will setup the front gears just to be sure. He told me to get a pinion seal, crush sleeve and pinion shims. The first thing that popped up in my internet search is a crush sleeve eliminator by Yukon.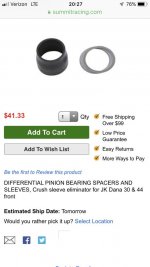 He says he's never used them but also never heard anything good or bad about them. I already have a pinion seal on hand, so it kinda looks like this kit would do the trick. But! If there's some reason to not run this on a DD Jeep and you guys know, I'd appreciate hearing about it.