It was time for new tires and after 3 months of back and forth between another set of BFG KO2 or Cooper STT, I decided to give the Coopers a go.
37x13.5x17 on KMC Machete...these suckers are heavy!!!
Was fighting getting the Cooper thick bead in place, it kept popping off the opposite side when I'd get to the last 4" of working it onto the KMC -thanks Eddie for the tip :thumb:
I ended up using ratchet straps to hold the bead in place and it worked out great.
pics?? yeah, I thought about taking some during the process but the process was taking so long ...
Damn Cooper beads are a lot thicker than the BFG, I thought I'd never get them done in time.
On and balanced :thumb:
Before with ATX Chamber Pro II and BFG KO2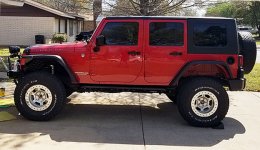 After with KMC Machete and Coopers: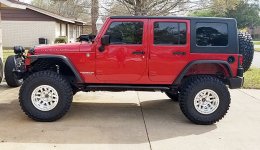 The Coopers are not as noisy as I had thought, they're also pretty smooth, so far ....