SOLD!
We've upgraded to Prorock 60's front and rear, and are selling a great package for anyone wanting to bulletproof their Sport or Sahara, any year JK or JKU. Everything needed to bolt on and drive / wheel included. These axles have never let us down and have had flawless operation on highway and trail.
Front Prorock 44 Unlimited – Includes
• ARB Front Locker – 4.56
• REID Knuckles
• RCV Shafts
• Dynatrac Ball Joints
• Fusion 4x4 7075 tie rod
• Synergy HD welded track bar bracket
• Mopar European big brakes –calipers brackets, rotors, pads
• Synergy steering stabilizer bracket
• Bumpstops for 3.5" lift
• Stock RHD flipped draglink
• JEReel 1310 HD front driveshaft, yoke, & hardware
• New ARB high output air compressor (harness for 1 solenoid)
• New unopened ARB manifold kit
• Custom welded lower control arm skid plates
• Spare Dynatrac balljoint components and rebuild kits
• New ARB airline and misc hardware
• ABS harnesses
• Factory brake shields and caliper brackets
• Misc hardware, spare European rotor, and RCV boot tool
Rear Dana 44 - Includes
• Eaton Truetrack 4.56 high performance limited slip
• Poison Spyder bombshell diff cover
• EVO Rockstar shock/lower control arm relocation/skids
• Stock rear driveshaft complete w/flange
• 2 spare stock rear driveshafts – missing plastic boot
• Bumpstops for 3.5" lift
• Stock front swaybar links – appropriate for 3.5" lift
• Stock brake lines and relocation brackets
• Stock open differential
• 3 lubelocker gaskets – 1 installed
• Stock spare diff cover
• Misc hardware
If you build the front axle, driveshaft, and tie rod alone at vendor's websites, you'll be at $7175 before brakes and extras. Add a matching gear upgraded rear axle and tons of extras into the mix, and save yourself a huge discount. These should take the average garage wrencher a weekend to install. Our axles have been wheeled, but always cleaned, touched up, and meticulously maintained. Front axle has ~30k, and rear ~60k miles.
Cash or Paypal accepted. Available in St Inigoes Maryland most nights and weekends. I'm happy to take additional pictures upon request. These axles are heavy, I can help load but will need another able bodied person to load into your truck. There's a very small chance I can get these up to Rausch on 6/2 for a guaranteed sale only if I can get a friend to loan me their trailer space.
SOLD!
The ONLY trade I'd be interested in is an old running stockish Willy's pickup with a manual transmission, low rust, and a clean title.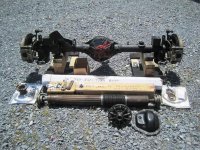 Last edited: