I now have a few hundred miles on the 4" lift and am noticing the slightest bit of bump steer at highway speeds. Both axles are within an 1/8" of being centered, I DO NOT have a steering stabilizer, I DO have a flipped draglink which IS NOT parallel to the trackbar and raised trackbar brackets installed.
To accomplish the centering of the axles I used the bottom holes (2 options up front, 4 out back) on the raised brackets with my OE trackbars. Also, my caster reads 4°. I also rotated and checked psi on my tires a few days ago to rule that out.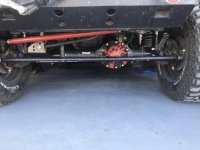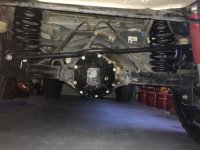 So should I be considering an adjustable front track bar to center AND get it parallel to the draglink? Am I overlooking something else?
Oh, and other than centering the axle at the rear, what is my point of reference for correct placement?
Don't get me wrong, the road manners are better than I imagined they'd be. I just hit the same few bumps to/from work and notice the slight jerk to the left on the steering wheel. Hopefully my questions explain what's bouncing around in my head accurately and thanks in advance!