Well after my last oil change and service I noticed what looked like T-case fluid being slung on the underside of the jeep originating from the front output shaft area. I assumed the seal was wearing out and it would need to be changed. Also while driving I could hear a rotational chirping sound. I assumed it was the centering ball of the front drive shaft. After having that inspected by my local driveline shop it was determined the drive shaft was good to go.
So today I decided to finally replace the seal and when I pulled the output shaft Yoke I noticed some scoring on it as well as the stock metal dust shield I had installed on the yoke. Looking at the back side of the dust shield i think i found where the chirping was coming from. It looks like it was making contact with the housing of the T-case. Also there was what appeared to be rotational wear on it. I'm assuming this was a result of my son's mud bog adventure and dirt or debris getting forced into the seal. There is a small burr on the dust shield as well which is most likely the culprit of the seal wearing out. I will not be reinstalling the metal dust shield as I believe this was optional on the JE Reel 1310 front shaft.
Ok after my rambling, to my question. Given the scoring on the front output yoke should I replace it prior to reinstalling it? The scoring is not on the entire circumference of the yoke. Maybe a 1/4 or less and does not appear to have been continuous so I don't believe it was caused by a bent output shaft or driveline vibration. I don't want my seal to wear out prematurely or just continue leak after this pain in the ass job. I've attached pics to show what I'm seeing. Any help is much appreciated.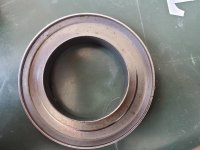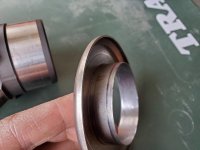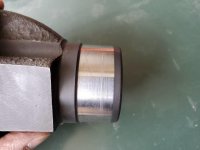 Sent from my SM-G973U using
WAYALIFE mobile app
Last edited: