I purchased my Jeep in May of 2020 and wheeled it for the first time in October of 2020. This experience - my first off-roading trip ever - revealed that I have a little natural talent off-roading but that I also have a TON to learn! I decided then to evolve my Jeep in a series of stages so that it is always one level ahead of my abilities so as to hopefully limit the costs to the Jeep of the mistakes I will naturally make while I am learning.
Here is the progress I have made so far on Stage 1 (I will update this as I continue):
Jeep Stage 1 (Daily Driver)
Upgrade from stock to 33" tires
Longer Spare Tire Bumps
Pro-Comp Wheels with 4.00" Backspacing
Hard Rock Bumpers I got for $40!
Towing Receiver
Rock Hard Winch Plate
Badlands 12k Winch with Synthetic Line (Early add due to my trail buddy being unreliable!)
Home "Fabricated" Front License Plate Adapter
Home "Fabricated" Vacuum Pump Relocation Bracket
Rebuilt Rubicon Axles with Stock Lockers and Terraflex Ball Joints (Front Axle with Artec C Gussets)
Terraflex 2.5" Lift Springs
Hockey Puck Bump Stops
ARB Differential Covers Front and Rear
Lubelocker Gaskets Front and Rear
Fox 2.0 Shocks (4 on the Jeep; 4 that came with the axles that I am rebuilding as spares)
JKS Sway Bar Disconnects
JKS Track Bar (Rear)
Core 4X4 Track Bar (Front)
Raised Track Bar Bracket
Core 4X4 Tier 4 Adjustable Control Arms with Johnny Joints (Upper and Lowers on Front and Uppers on Rear)
Terraflex Rear Spring Retainers
Braided front Brake Lines
Driveshaft Direct Front and Rear 1310 Driveshafts
Rubicon Rock Rails
Synergy Tie Rod
Terraflex Steering Damper
Steer Smart Yeti Drag Link
Uprated Hood Latches
Tuned CB Radio with Spare Tire Mount for Antenna
Black Firestick Antenna with Red Tip
A-Pillar Pod Light Mounts
LED Pod Lights on A-Pillar
8-Gang Switch Panel for Lights and Lockers
Molle Overhead Panel for CB
Rough Country Neoprene Seat Covers Front and Rear
Bulletpoint RAM Dash Mount (Converted to 1" Balls)
RAM Mount Arms for Phone and Another for iPad for Trail Maps
Paracord Grab Handles
Dash Grab Handle Pocket
K&N Drop In Air Filter
AEV Procal
High Clearance Exhaust System
Genright Boatside Rock Sliders and Rocker Protectors
Vector Tech Bar
LED Headlights and Fog Lights
Amber Tinted Cube Fog Lights
Crown Brig Brake Kit with Ram Calipers
Up Next for Stage 1
Rubicon Hard Rock Double Rear Red Tow Hooks (Installing Soon)
Full Skid Plate
Core 4X4 Tier 4 Rear Lower Control Arms
GMRS Radio
Stage 1.5 (Once I am less of a greenhorn)
37" TA KO2 Tires
On-Board Air
High Clearance Fenders - Thinking Metal Cloak Overline so I get the wider fenders for daily driving and can take the outer portion off when I hit the trail...
Stage 2 (Dedicated Trail Rig)
Badges Earned
Peewee's Crossing (SMORR)
Guardrail (SMORR)
Rubicon Ridge (HSORV)
Snake (HSORV)
Fun Run (HSORV)
Stock Photo After 33" Tires but Before New Rims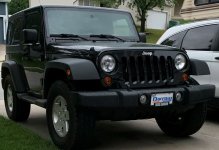 Current Photo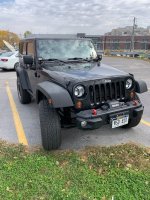 Last edited: