Was thinking about Calamity Jane and the videos and reminded me of my most recent re-build and my need to tie in the roll cage.
We rolled it about 15 years ago and the cage wasn't tied in. It held up and protected us...but there was significant tub damage.
Thinking about this option to tie it to the frame.
M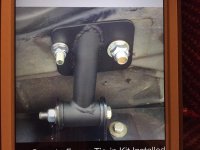 .
It is from GenRight but didn't know what other options are available
Sent from my iPhone using
WAYALIFE mobile app