Picked up a new to me 2019 Unlimited Rubicon 6MT with 40k miles.
My offroad background is mostly Toyota (and Polaris Rzr). I've had multiple Tacoma's and 4Runners. I used to have a 98 ZJ 5.9 waaaay back in the day 20 years ago as well, which I loved. They've all treated me well, but I've always wanted a Wrangler. My daughters also begged for one as well.
I'm in northern Utah and love spending time in central Utah (San Rafael Swells, Cap Reef, White Rim area) and southwest Colorado (San Juans).
Hoping the learning curve isn't too bad with the Wrangler. Fortunately, there are lots of how to videos out there, and resources like this forum.
Currently planned mods are very basic. I don't do anything crazy.
- Dynatrac Endurosport 2" lift
- 35" tires. Either KO2 or Patagonia.
- Alu stubby Bumper/Winch
That's it (for now
).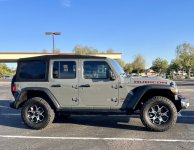 Last edited: