My friend bought his EVO sliders, skins and had them installed last year.. they went through one winter in Quebec... and they look like this...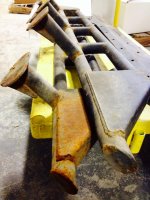 Now... I'm not bitching against EVO at all.. JUST saying please look at where you live and consider ordering your stuff bare and getting it painted locally, the local powder coater will have knowledge of the area and what do do to avoid this.
I order my stuff bare as much as possible and even when it's not bare, they sandblast everything here.. before putting on a zinc primer than the paint, I warned my friend it would happen... but he ignored me excited to get them installed...
So once again, Please.. just do it right the first time you'll avoid head aches down the line..