Hi! Have a build thread on another forum but have really been enjoying reading on here . Thought I'd create a thread here to introduce myself and do a quick recap of my build since I bought my first jeep in July of 17.
Picked up '15 JKUR Anvil used with 4.1 gearing, AEV wheels, and 33s . Pretty much stock otherwise. Here it is on Day 1.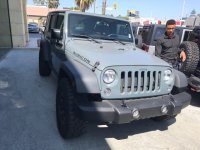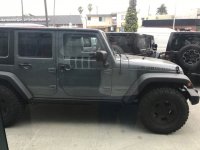 First big mod was a Teraflex 2.5" cool lift, Rancho 9000s, geo correction brackets.. should have done more research on here before pulling the trigger . Regret the cheapish lift but was recommended on another forum and by a vendor . Overall I like it much better than stock but wish I had invested slightly more . Lesson learned and am trying to put on quality components now but it adds up quick !
Also did DV8 front and rear bumpers, barricade sliders, TF rear tire carrier, CB, grill insert, LED headlights and fogs at the same time .