Administrator
Staff member
The fuses on a Jeep JL Wrangler are located under the hood and in a black box next to the battery. This box is known as the Power Distribution Center and the top cover has a diagram of all the cartridge fuses, mini fuses and relays contained within it.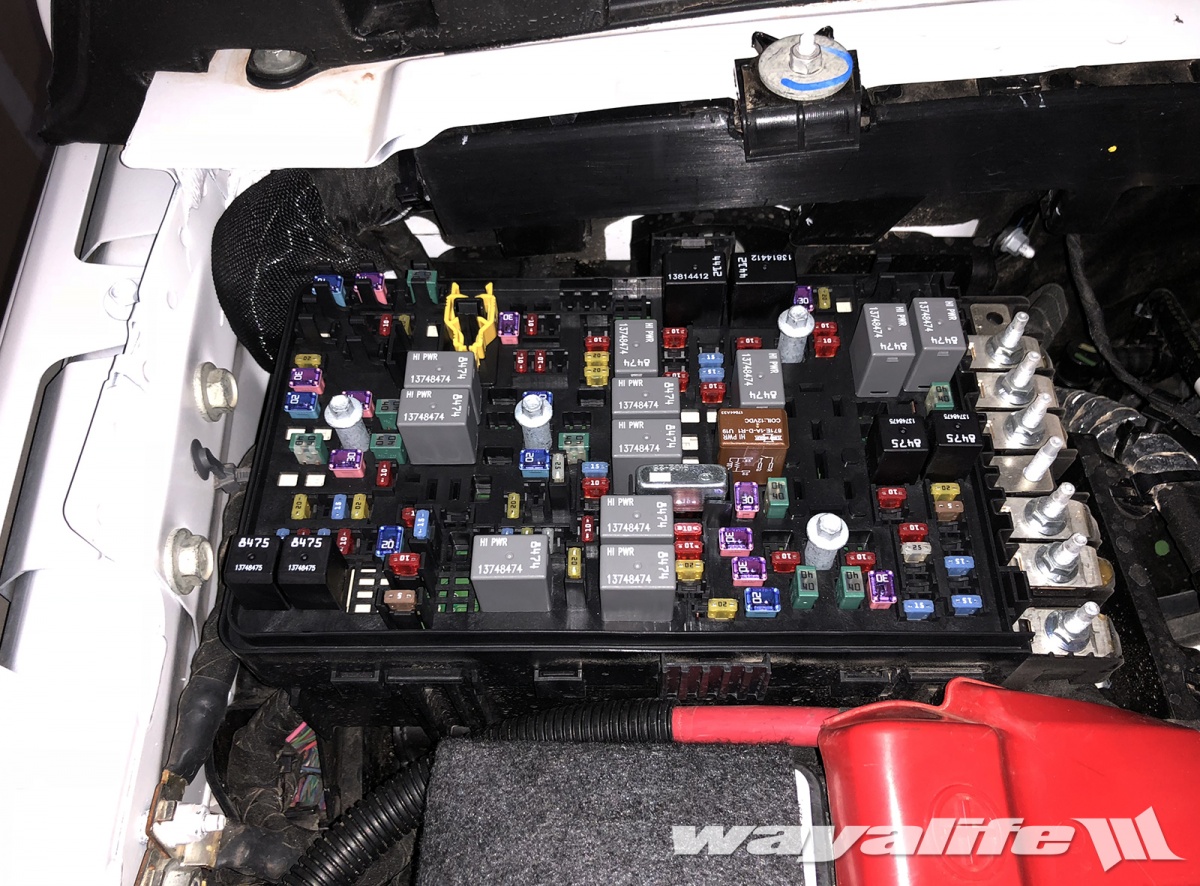 Because it can some times be hard to read, the following is a complete list of them according to what bank they're in, what they're used for and what type, size and color fuse is needed to replace them.
FUSE BOX QUICK REFERENCE CHART
---
NOTE:
The following information was setup using tables and you will NEED to use a computer or view it from the full site to see it formatted correctly.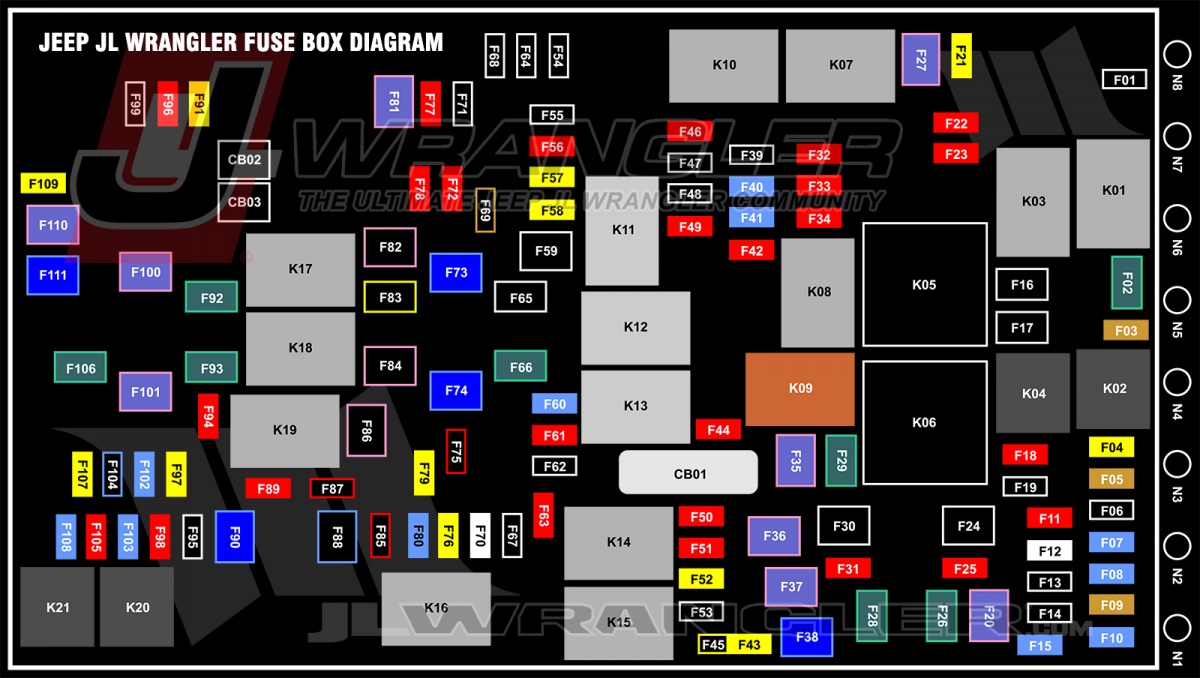 | | | | |
| --- | --- | --- | --- |
| Location | Description | Size | Type |
| F01 | Spare | | |
| F02 | Starter | 40 Amp Green | Cartridge |
| F03 | IBS | 5 Amp Tan | Micro |
| F04 | Fuel Pump MTR/FPCM | 20 Amp Yellow | Micro |
| F05 | Security Gateway | 5 Amp Tan | Micro |
| F06 | Spare | | |
| F07 | LTR Cool Pump — If Equipped | 15 Amp Blue | Micro |
| F08 | TCM-8HP CYGNUS | 15 Amp Blue | Micro |
| F09 | Spare | | |
| F10 | KIN/RF HUB/ESCL | 15 Amp Blue | Micro |
| F11 | UCI Port (USB & AUX) | 10 Amp Red | Micro |
| F12 | HIFI Ampliftier | 25 Amp Clear | Micro |
| F13 | Spare | | |
| F14 | Spare | | |
| F15 | IPC/SWITCH BANK-HD ELEC | 15 Amp Blue | Micro |
| F16 | Spare | | |
| F17 | Spare | | |
| F18 | AC CLUTCH | 10 Amp Red | Micro |
| F19 | Spare | | |
| F20 | CBC 1-INTERIOR LIGHTS | 30 Amp Pink | Cartridge |
| F21 | REAR WIPER | 20 Amp Yellow | Micro |
| F22 | ECM/PCM/MGU WAKE UP/PPU WAKE UP | 10 Amp Red | Micro |
| F23 | PCM/ECM | 10 Amp Red | Micro |
| F24 | Spare | | |
| F25 | MOD_SBW | 10 Amp Red | Micro |
| F26 | CBC 2-EXTERIOR LIGHTS #1 | 40 Amp Green | Cartridge |
| F27 | Front Wipers | 30 Amp Pink | Cartridge |
| F28 | CBC 3-POWER LOCKS | 40 Amp Green | Cartridge |
| F29 | CBC 4-EXTERIOR LIGHTS #2 | 40 Amp Green | Cartridge |
| F30 | Spare | | |
| F31 | DIAGNOSTIC PORT | 10 Amp Red | Micro |
| F32 | HVAC CTRL MOD/SCL/OCM/DPDM | 10 Amp Red | Micro |
| F33 | PTS/IRCM/AIRBAG DISABLE LMPS | 10 Amp Red | Micro |
| F34 | ESC/EHPS/SBCM WAKE UP | 10 Amp Red | Micro |
| F35 | BRAKE VAC PMP — If Equipped | 30 Amp Pink | Cartridge |
| F36 | TRLR TOW MOD — If Equipped | 30 Amp Pink | Cartridge |
| F37 | TRLR TOW CONN 7W — If Equipped | 30 Amp Pink | Cartridge |
| F38 | ECM | 20 Amp Blue | Cartridge |
| F39 | Spare | | |
| F40 | DTCM/AXLE LOCK FT_RR | 15 Amp Blue | Micro |
| F41 | IC/SGW WAKE UP | 15 Amp Blue | Micro |
| F42 | PCR CTRL FEED (ESS)/SPARE (BSG) — If Equipped | 10 Amp Red | Micro |
| F43 | PWR OUTLET (CARGO) BATT | 20 Amp Yellow | Micro |
| F44 | IRCAM HEATERS | 10 Amp Red | Micro |
| F45 | PWR OUTLET (CARGO) IGN* | 20 Amp Yellow | Micro |
| F46 | AUTO HDLP LVL MOD/LVL MTR/HDLP SW | 10 Amp Red | Micro |
| F47 | Spare | | |
| F48 | Spare | | |
| F49 | ORC | 10 Amp Red | Micro |
| F50 | HD ACC — If Equipped | 10 Amp Red | Micro |
| F51 | DSRC/USB/ISRVM/CSGM | 10 Amp Red | Micro |
| F52 | CIGAR LTR | 20 Amp Yellow | Micro |
| F53 | Spare | | |
| F54 | Spare | | |
| F55 | Spare | | |
| F56 | IN-CAR TEMP SENSOR | 10 Amp Red | Micro |
| F57 | Frt Drvr Htd Seat | 20 Amp Yellow | Micro |
| F58 | Frt Pass Htd Seat | 20 Amp Yellow | Micro |
| F59 | Spare | | |
| F60 | CSWM (HTD STR WHEEL) | 15 Amp Blue | Micro |
| F61 | LBSS/RBSS | 10 Amp Red | Micro |
| F62 | Spare | | |
| F63 | ORC | 10 Amp Red | Micro |
| F64 | Spare | | |
| F65 | Spare | | |
| F66 | HVAC BLOWER MTR FRT | 40 Amp Green | Cartridge |
| F67 | Spare | | |
| F68 | Spare | | |
| F69 | MGU (BSG) — If Equipped | 5 Amp Tan | Micro |
| F70 | INJ/IGN COIL (GAS)/GLO PLUG MOD (DSL) | 25 Amp Clear | Micro |
| F71 | Spare | | |
| F72 | HD ELEC ACC PKG — If Equipped | 10 Amp Red | Micro |
| F73 | PWR TOP LT | 20 Amp Blue | Cartridge |
| F74 | PWR TOP RT | 20 Amp Blue | Cartridge |
| F75 | PPU-BPCM & APM (BSG) — If Equipped | 10 Amp Red | Micro |
| F76 | ECM (GAS)/PCM (DSL) | 20 Amp Yellow | Micro |
| F77 | HTD MIRRORS | 10 Amp Red | Micro |
| F78 | COMP/INTRUSION/SIREN/INTRUSION SNSRS | 10 Amp Red | Micro |
| F79 | SMART BAR CTRL MOD | 20 Amp Yellow | Micro |
| F80 | PCM | 15 Amp Blue | Micro |
| F81 | REAR DEFROSTER (EBL) | 30 Amp Pink | Cartridge |
| F82 | FUEL HTR — If Equipped | 30 Amp Pink | Cartridge |
| F83 | GLOW PLUG — If Equipped | 60 Amp Yellow | Cartridge |
| F84 | UREA HTR CTRL UNIT — If Equipped | 30 Amp Pink | Cartridge |
| F85 | PM SENSOR — If Equipped | 10 Amp Red | Micro |
| F86 | BRAKE VAC PMP 2 — If Equipped | 30 Amp Pink | Cartridge |
| F87 | SUPPLY/PURGING PMP — If Equipped | 10 Amp Red | Micro |
| F88 | NOx SENSOR #1/ #2 — IF Equipped | 20 Amp Blue | Cartridge |
| F89 | SCCM/CRUISE CTL/DTV | 10 Amp Red | Micro |
| F90 | TRLR TOW PARK LMP — If Equipped | 20 Amp Blue | Cartridge |
| F91 | HORN | 20 Amp Yellow | Micro |
| F92 | HD ACCY #2 — If Equipped | 40 Amp Green | Cartridge |
| F93 | HD ACCY #1 — If Equipped | 40 Amp Green | Cartridge |
| F94 | TPM/CORAX | 10 Amp Red | Micro |
| F95 | Spare | | |
| F96 | PWR MIRROR SW | 10 Amp Red | Micro |
| F97 | RADIO/TBM | 20 Amp Yellow | Micro |
| F98 | SW BANK-HD ELEC/OFF ROAD | 10 Amp Red | Micro |
| F99 | Spare | | |
| F100 | ESC-ECU & VALVES | 30 Amp Pink | Cartridge |
| F101 | DTCM | 30 Amp Pink | Cartridge |
| F102 | DUAL USB PORT | 15 Amp Blue | Micro |
| F103 | HD ACCY #3 — If Equipped | 15 Amp Blue | Micro |
| F104 | PPU COOL PUMP — If Equipped | 15 Amp Blue | Micro |
| F105 | ICS/HVAC | 10 Amp Red | Micro |
| F106 | ESC-PUMP MTR | 40 Amp Green | Cartridge |
| F107 | TRLR TOW STOP/TURN LT — If Equipped | 20 Amp Yellow | Micro |
| F108 | HD ACCY #4 — If Equipped | 15 Amp Blue | Micro |
| F109 | TRLR TOW STOP/TURN RT — If Equipped | 20 Amp Yellow | Micro |
| F110 | POWER INVERTER | 30 Amp Pink | Cartridge |
| F111 | TRLR TOW BACKUP — If Equipped | 20 Amp Blue | Cartridge |