Are you referring to flipping the swaybar motor? To be honest, I didn't get instructions with my bumper so I don't know anything about drilling. As far as the hoop goes, I don't think there's any way you could install it the winch in it. Yes, it's tough if only because it's heavy but you should be able to install the winch in afterward. I did anyway.
Yup. They're saying to drill through 1/2" of the bolt hole on the swaybar motor.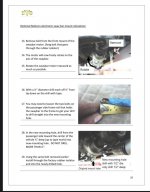 The instruction also say to mount the winch before installing the bumper... the way you did it in the video seems much easier though. Lol. I think I'll try that way. I was just curious if something changed and drilling the motor is necessary, or if I could still just buy new hardware without drilling.
Sent from my iPhone using WAYALIFE