Administrator
Staff member
As everyone knows, changing your engine oil is a necessary part of routine maintenance on your Jeep JK Wrangler and, it's one that is required on a regular basis. Fortunately, it's also something that is super easy to do, something that just about anyone can do and, something that can save you a money. Of course, for those of you who have never changed your own engine oil before, this short write-up will explain in detail what all is involved and just how little you will need to do. And, after you done this on your own, I can almost guarantee that you'll never take your Jeep back to your dealer or a shop to have it done for you again.
If you have a 2012-up Jeep JK Wrangler with a 3.6L V6 Pentastar Engine, click on this link:
2012 Jeep JK Wrangler 3.6L V6 Pentastar Engine Oil Change Write-Up
What you will need
---
• 13mm Socket
• Ratchet
• Oil Filter Wrench
• Oil Catch Pan
• Funnel
• Oil Filter
• 6 Quarts 5W20 Oil
• Empty Milk Jug
Brands & Part Numbers
---
When it comes to oil, I prefer to use Mobil 1. As is instructed in the owners manual for the Jeep JK Wrangler, I use this in a 5W20 weight.As far as filters go, again, I prefer to use Mobile 1 but, if I can't find one at my parts store, I use Purolator PureONE. Here are the part numbers you will need for each:
•
Mobil 1 #M-102
•
Purolator PureONE #PL10241
Instructions
---
Here's a shot of pretty much everything you will need to change the oil in your 2007-11 Jeep JK Wrangler. As you can see, in addition to 6 quarts of oil, you will also need a filter, some tools and a means to collect your used oil.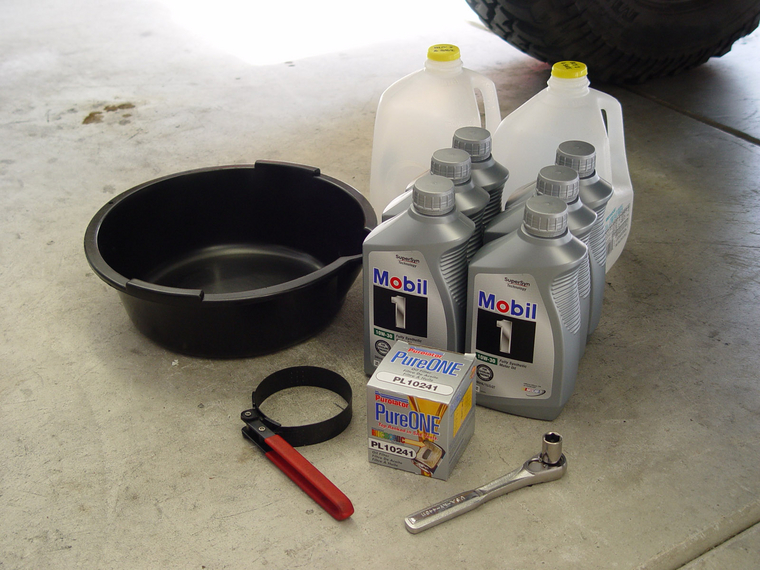 1. Place a catch pan on the ground directly under the oil pan and then, using a 13mm socket, loosen but do not remove the drain bolt.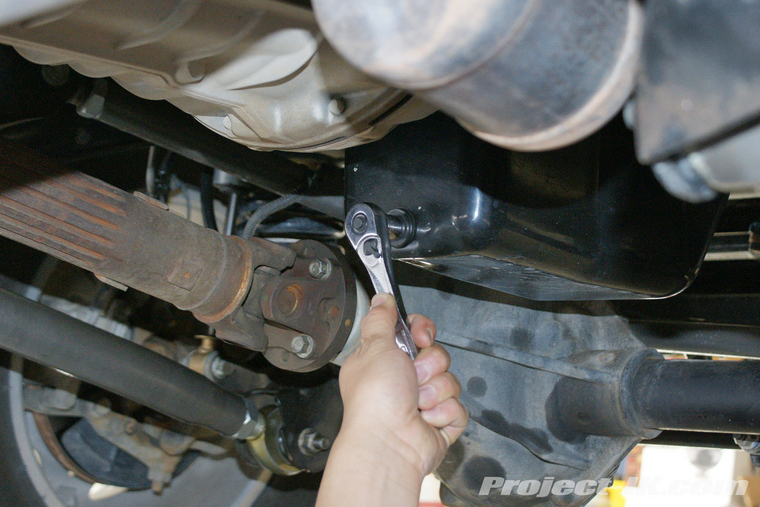 2. Finish removing the drain bolt by hand so that you don't loose it in the catch pan below. Allow the oil drain completely. Once drained reinstall the drain bolt.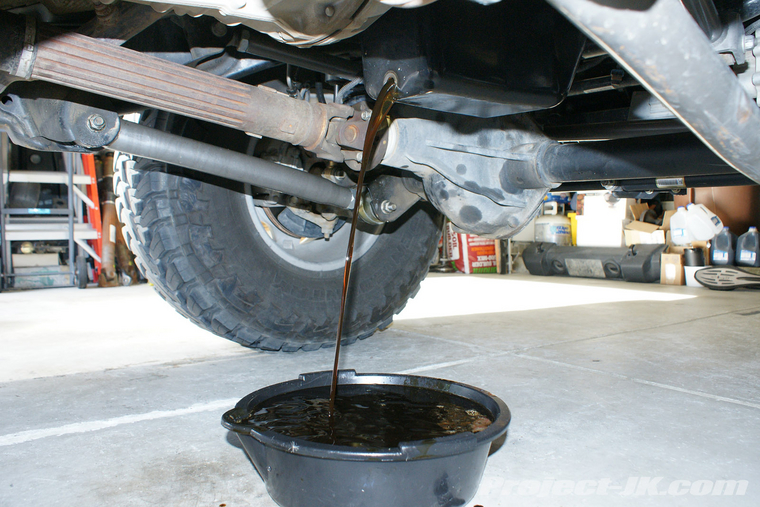 3. Move the oil catch pan so that it is sitting under the the oil filter which is located on the front of your engine. Then, use a filter wrench or strap wrench to remove the oil filter.
4. Open up your new oil filter and apply a light coat of used engine oil on to the rubber gasket as shown.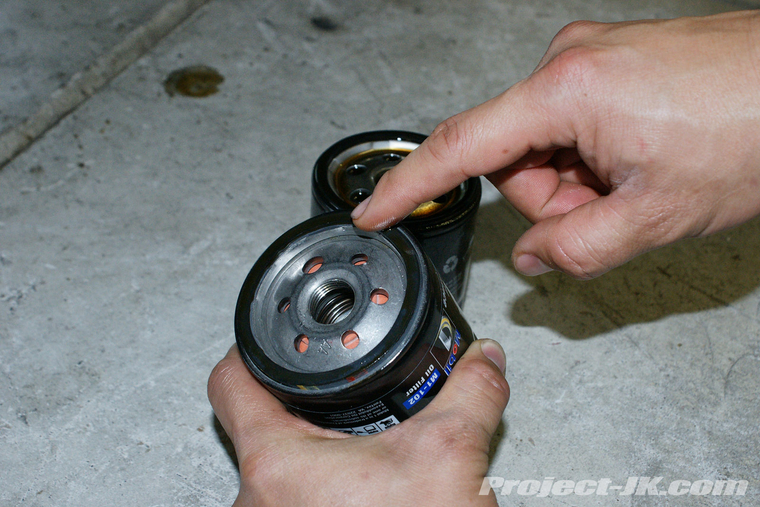 5. Install the new oil filter onto engine and tighten it on by hand.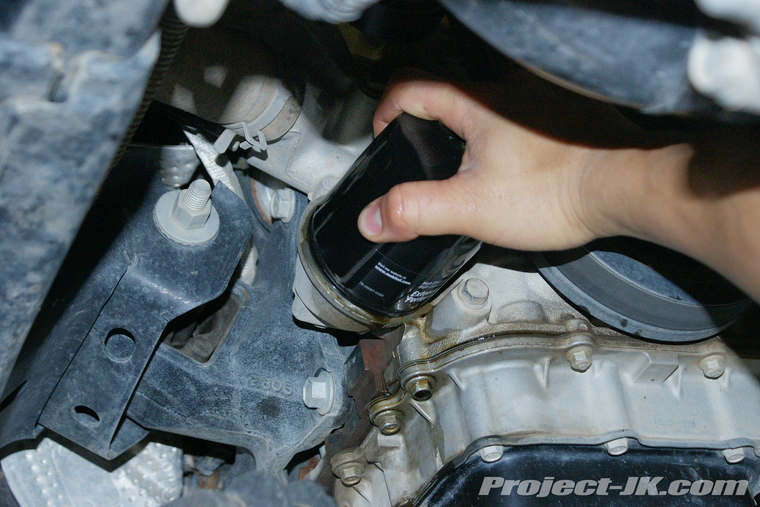 6. Pop open the hood and remove the oil fill cap which is located on the passenger side of the engine.
7. Place a funnel into the fill hole on your engine and proceed to refill it back up with 6 quarts of 5W20 oil. When finished, reinstall the fill cap.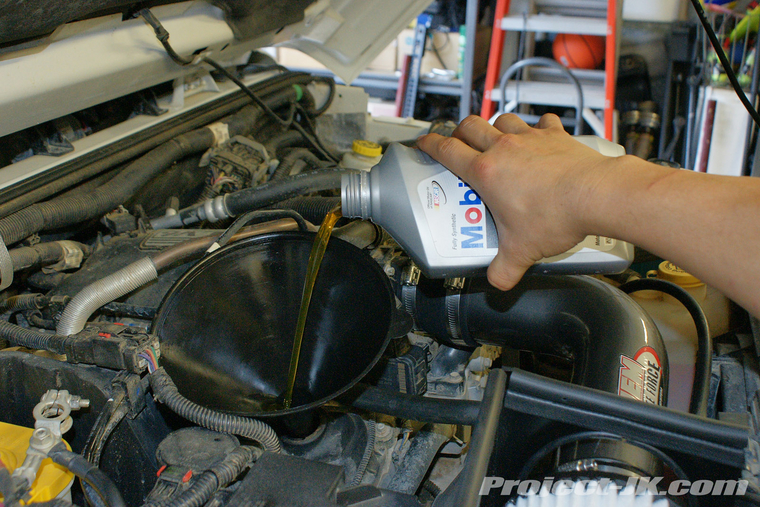 That's all there is to it. If you have a 2008 or newer Jeep JK Wrangler and need to turn off the CHANGE OIL warning, all you need to do is turn your key to the ON position without starting your engine and then push your accelerator pedal to the floor 3 times. Turn your key off and you should be good to go.
Like I said before, super simple and easily something that anyone can do. Please be sure to clean up your mess and take your used oil to a recycling center. Most autoparts store such as PepBoys, Kragen/Checkers will take your used oil free of charge. Please let me know if you have any questions.