Ive been posting here for a month or two and I am making progress on my Gladiator build.
But, I wanted to tell the rest of my Jeep story and how I got to this point and where I am headed. I have owned a lot of very fast cars and a lot of big lifted super duties through the years. In November 2020 I was offered a 2018 JLU Rubicon for a very good price. Having never owned a jeep I thought it would be cool to try one out and the original plan was to give it to my daughter on her 16th birthday which was in this past may.
The JL I bought had a 2" skyjacker lift and 20" wheels with some cheap tires on it. After driving it a few days I realized this thing drove like shit so I started doing research. We kept the 20" wheels, installed Toyo AT'3, changed the shocks to Fox 2.0's, replaced the steering box, and installed adjustable lower control arms to correct a pinion angle issue. Surprisingly the Jeep is now very nice to drive.
My daughter was excited about the Jeep, that was until mom decides she likes it more. So we decided to buy our daughter a Bronco Sport and my wife will keep the Jeep. About this time I found Eddies you tube channel and building the JL was the mission. Plans changed to the Gladiator soon after and my wife was happy to drive the Jeep, this shocked as me she usually drives higher end Luxury vehicles.
So we are building the gladiator and the wife wants the JL modded so that it looks nice and is also capable offroad.
I have the following parts in route to me-
Evo Enforcer 2.5 Stage 4 lift
Fox 2.5 Elite Series shock with compression adjusters
Synergy Track bar
Black Rhino Primm beadlocks
Toyo RT 35x12.50-17's
I am keeping it on 35's as she drives it everyday.
Here is the JL currently-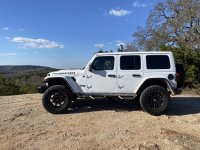 I'll update the thread in a few weeks when the transformation is complete.