Administrator
Staff member
While the Jeep Renegade Trailhawk is able to get almost 30 MPG stock, it's 12.5 gallon gas tank is about half the size of what a Jeep Wrangler has and of course, if you add a lift, more aggressive tires and a roof rack - that MPG will drop and enough to be a concern, especially if you like to explore the wide expanses of the Nevada desert. Technically, the Renegade should have more than enough gas to get you just about anywhere but, in the event you'd like to stay out longer and go just a bit further, carrying a bit of extra gas can go a long way and that's why I decided to install mounts to carry two 2-gallon Rotopax gas cans on our roof rack. It's nothing special but, this write-up will show you what I did and just how easy it was to do.
What you will need
---
• Roof Rack Crossbars w/Basket Installed
•
(2) 2-Gallon Rotopax Gas Tanks
•
(2) Rotopax DLX Pack Mounts
•
(2) Rotopax Backing Plates
• (8) 1" x 1/4" Carriage Bolts
• 1/2" Socket & Wrench
• Ratchet
Here's a shot of the Rotopax and mounting hardware.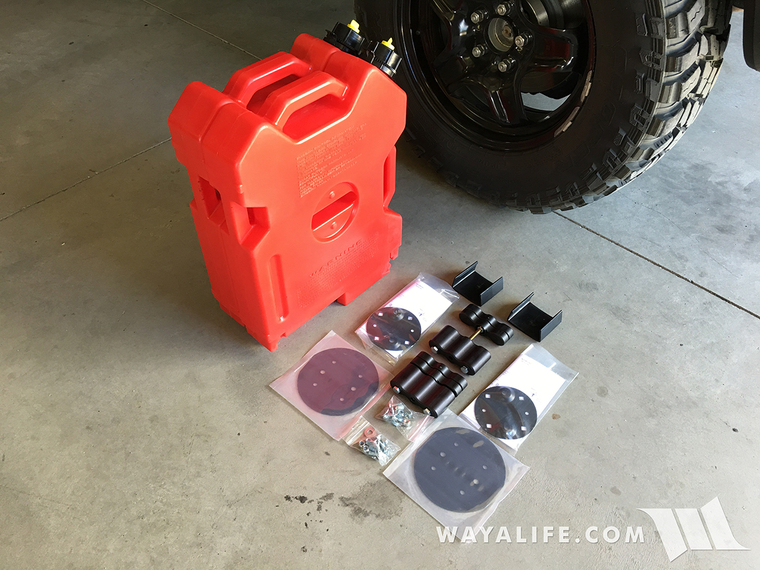 Instructions
---
1. The carriage bolts that come with the Rotopax DLX Pack Mounts were too short for it to work with my Rhino Rack XTray so, I picked up a set of longer bolts to make it work.
2. Assemble the Rotopax DLX Pack Mount using the bolts provided. You will need a 1/2" socket for this job.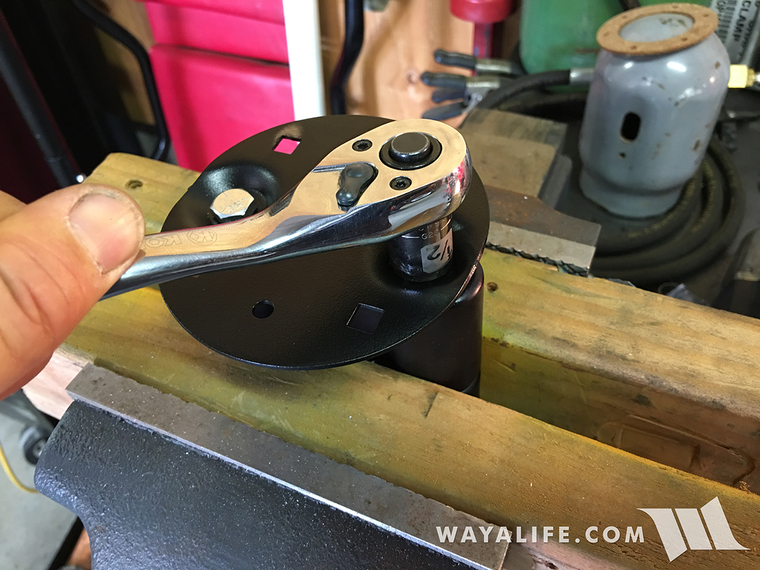 3. Slip 2 carriage bolts through the square holes on your assembled Rotopax DLX Pack Mount plate as shown.
4. Slip on the Rotopax backing plate onto the 2 bolts and loosely attach 2 washers and 2 nylock nuts provided with the kit.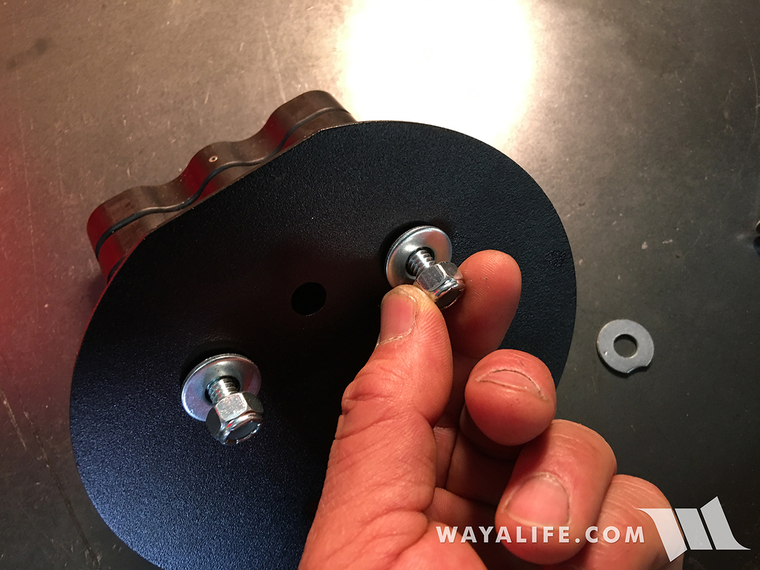 5. Slide the partially assembled Rotopax DLX Pack Mount and backing plate onto the roof rack basket and then secure it in place by installing 2 additional carriage bolts, washers and nuts. You will need a 7/16" wrench for this job.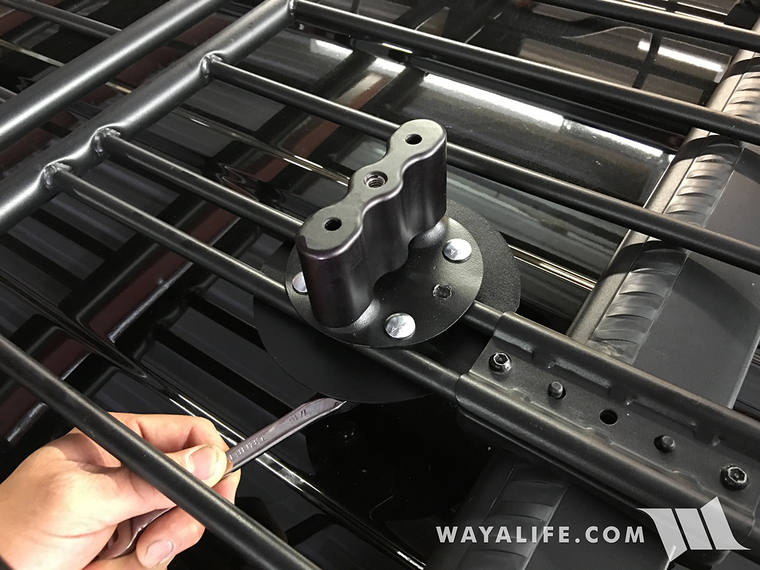 6. Thread in the locking handles onto the DLX Pack Mount as shown.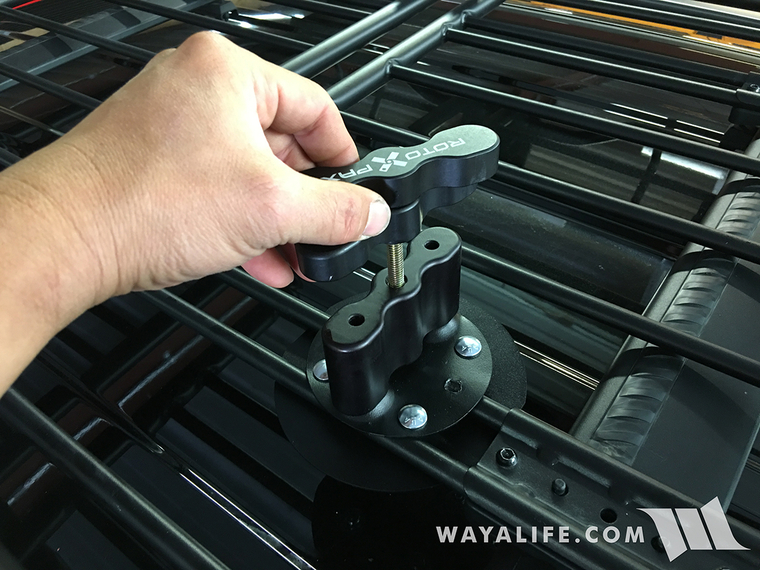 7. Place your 2-gallon Rotopax gas can onto the DLX Pack Mount.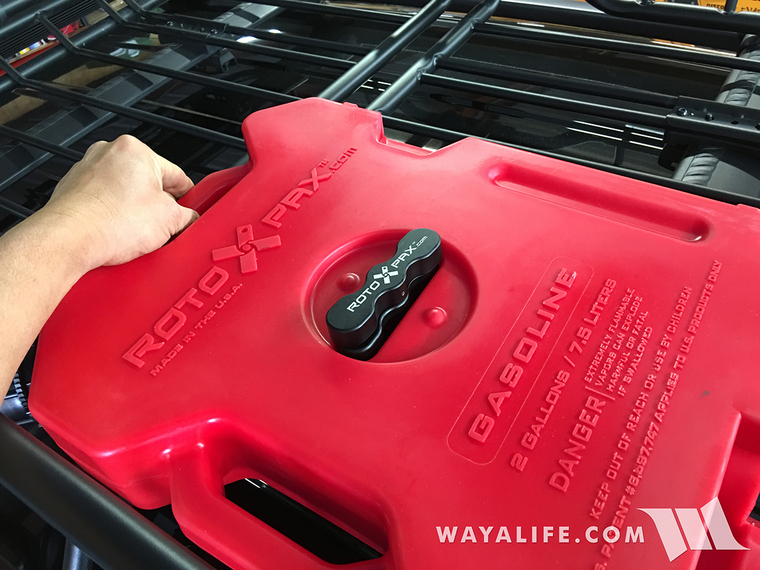 8. Rotate the lower lock handle so that it sits perpendicular to the open slot on the Rotopax gas can and then, rotate the upper handle until there is sufficient pressure to hold every thing in place.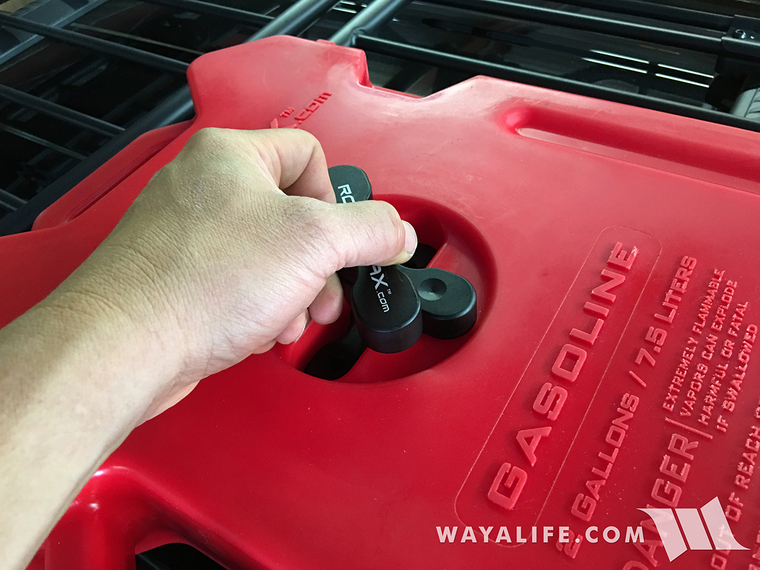 And, that's all there is to it. With this Rotopax setup, you now have 4 more gallons to get you quite a bit further out and without having to gas up. Here are a few shots of what everything looks like once installed.