Started work on the taillights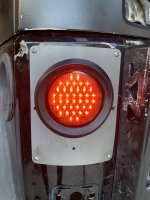 Need to open up the pilot hole for the backup light, then prep it for powder coating. I've got a friend that can do that for me.
I got 6 amp resistors that are supposed to eliminate error codes. However, the computer thinks the blinker lights are out. I've got the resistor wired in the positive blinker wire.
ETA- Anyone have an idea why the resistor isn't working? Is it wired in wrong?
Last edited: